My sandals arrived 2 days after I'd placed the order at the store! Amazing!

I didn't know Carlos Santana, the singer, designed sandals. LOL
I checked out his other shoes, they look pretty nice!
These sandals are soooo comfy!

Carlos Santana "Mojito" - $19.99 (Orig. $79.99)

AE Drapped Vest - $6.69

AE Ribbon Embellishment Tee - $6.69
Ordered these AE tops last week, they had 30% off of clearance items + 20% off code + free shipping!! I couldn't resist that!! They are so dirt cheap!!

The white babydoll top is so soft and the quality is pretty nice. Love the sequin embellishments. It's pretty long, the hem reaches my thighs halfway.
The vest looks great w/ tank tops and wife beaters!


❤❤❤❤❤❤❤❤❤❤❤❤❤❤❤
I was bored at home, and suddenly had the mood to search for a cute dress on Overstock.com. I fell in love with this dress, but I was afraid it looked too childish for me. I asked for an opinion on Soompi, and then my friend, my sister and my hubby. I got positive feedbacks from them. So I decided to get it.


Kaktus Sportswear Crinkle Dress - $29.xx shipped (Orig. $72)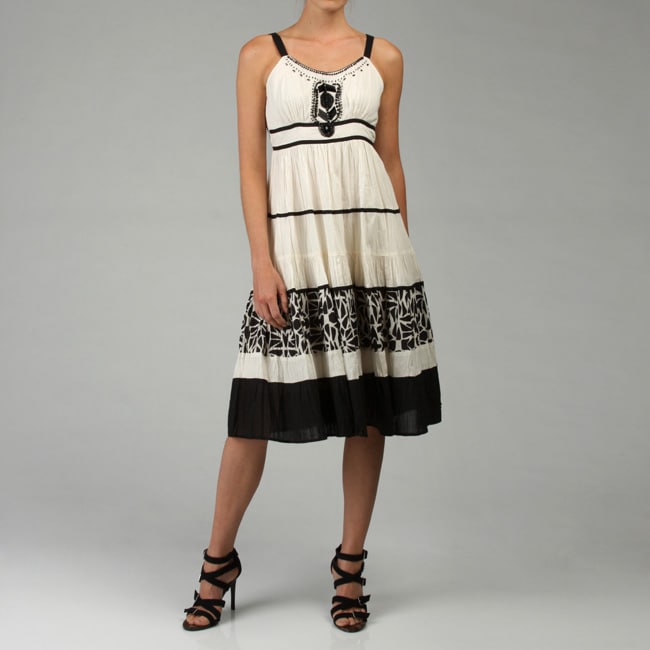 I love this dress!!

It's made of crinkled cotton, the color is beige-ish white.
I like how it doesn't have busy flowery pattern, like majority of summer dresses out there. Don't like them, too busy and girlie. About 99% of my dresses are plain. Also, I like how this dress minimizes the size of my boobs, since they catch too much attention.

Now the sucky part.
When I was about to post a review about the dress on the Overstock.com site, I found out the dress price dropped $5.80!
I contacted the customer service via their live chat. They gave me $5.80 store credit. I'd rather get a refund, .....but, it's better than nothing I guess.
❤❤❤❤❤❤❤❤❤❤❤❤❤❤❤
Yeah... another cardigan.. i'm a cardigan addict!!
Ordered this open cardigan with the $10 off code found on retailmenot, the code is
10off
.
The fabric is t-shirt thin. The sleeve opening is narrow, not meant for women with fat or built arms.


Stevie Wrap in Bordeaux Sweaters By Alternative Apparel
- $11.90
❤❤❤❤❤❤❤❤❤❤❤❤❤❤❤
Around early July, ASOS offered international free shipping. Not in the mood to buy clothes, so I looked around the accessories area.... and I got this bag! They have one in brown that I really like, but it's not on sale. But, the black one is good too, it's a versatile color.


ASOS Dark Buckle Shoulder Bag - $23.xx shipped (Orig. $43.xx)
The synthetic leather quality is like Forever 21 quality. So it's not worth the retail price.
I like the buckles and the multiple pockets, and it can be worn two ways.

The only thing that I'm disappointed about this bag is the long strap is NOT adjustable. The bag falls too low! The person who made this bag didn't think about the shorter people :(
I guess I can shorten the strap by tying it in knots.
❤❤❤❤❤❤❤❤❤❤❤❤❤❤❤

Last week, MAC site offered free shipping and there's a coupon code for a sample of Zoom Lash mascara. So, I bought a brush cleanser since I'm almost out.
The Zoom Lash mascara is pretty nice. It lengthens and thickens. It doesn't smudge too, but probably because I apply a mascara primer first.
MAC Brush cleanser - $11.00
+ Zoom Lash Mascara sample
❤❤❤❤❤❤❤❤❤❤❤❤❤❤❤
I bought these pants from Ruelala site, they have been having blowout sale every Sunday at 5 pm PST. I bought a similar pair of pants not long ago (Blog), and I love them! They are comfortable, unique, and I got compliments from people at work too.

XCVI "Terraced" Light Tan Wide Leg Pant
- $25 (Orig. $85)
I
I love these pants too, because they look different from other khakis. They have pockets too. But, somehow these pants are much longer than my other ones. I wore almost 4 inches heels when I took this picture. So I have to pull the pants higher so that they don't drag the floor.
❤❤❤❤❤❤❤❤❤❤❤❤❤❤❤
Victoria's Secret is offering the PINK dogs with any PINK purchase again. I love love the patterns!!
❤
❤
❤
❤
Too bad the cheapest item in the store is the $6 perfume, which I don't like. The second choice is their $7.50 Pink cotton panty, but, I don't want to spend that much on a panty.
So I only picked the yellow leopard one, since it's my favorite pattern of all. The black panty is free, because I had a coupon.
PINK dog + black panty - Free
❤❤❤❤❤❤❤❤❤❤❤❤❤❤❤
My original plan was just to get my PINK dog and go home, since I already shopped too much this month... But, I saw so many people carrying Nordstrom Sale shopping bags, so I got tempted and checked it out.

I noticed many cool boots were on sale. I was attracted to these brown boots by Jessica Simpson, because of the low heels. Low heels means I can wear them for much longer. My feet always hurt after 2 hours of walking in high heels. Very nice quality man made leather. Look good with jeans or skirts. Also, the shaft is pretty tall, it reaches right below my knee bump. Hard to find affordable tall shaft boots nowadays.


Jessica Simpson Capry - $99.90 (Orig. $158.95)