I usually don't purchase from the regular Banana Republic store, because they are soooooooooooo pricey! But, 2 weeks ago, they had a 30% off code that worked on anything, including sale items. Usually they only give codes that valid on full-price items only. Plus, I had a $10 off code too. So, I ended up buying something from there!


Banana Republic
Lightweight Hidden Pocket Sweater - $24.99 shipped

(Orig. $69.50. Sale $34.99
)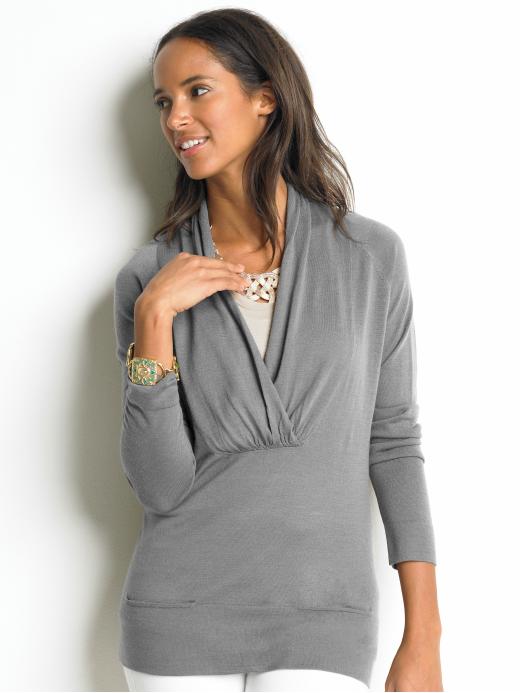 A very good quality 100% wool sweater. Very soft. It fits good too.
But, the picture is misleading. The sweater is sheer, so wearing a cami under it is a must. Also, the gray is not deep gray as pictured, the color is actually heather gray.
Yah I still like it, ideal for late spring and fall seasons.
About less than 2 weeks ago, MJRSales posted a free shipping code on their Facebook account. Thank goodness I became their fan, or I wouldn't have known about it. I purchased some clothes and boots.
Victoria's Secret Split Neck Tee - $5.99 shipped
I purchased this top in navy blue on eBay awhile ago. I posted it on my blog too. I really like it, so I bought another one in different color!
VS Cotton Rib Squareneck Sweater - $5.99
I wanted to buy this sweater when it's on clearance on VS site, but the color choices were crappy. So happy that MJRSales had this in beautiful deep red. It's my favorite color!
It fits really nice, as modeled.
❤
☺
It has a square-shape neckline on the front and V-shape neckline on the back. When I opened the package, and saw the V-shape, I immediately thought, "Hei, they sent me the wrong sweater!" *flip the sweater* "O, nevermind!" LOL :-P
The Limited Cowlneck Sweater - $7.99
I immediately put this sweater in the shopping cart. I love the sleeves style. It's slightly puffed on the top and the rest of the sleeve is form-fitting. The sweater in real life looks as good as expected. Though, it's kinda itchy, since small percentage of the fabric used is made of angora.
Colin Stuart Riding Boots - $16.90
These boots are a big disappointment! I've never liked Colin Stuart brand, bad quality, I shouldn't have bought them. They are stiff and uncomfortable. The shaft is too big for my legs. They are ideal for women with big or fat calves. I posted them up on eBay right away. Someone bought them last night. I took $5.25 loss. O well, better than collecting dust.
❤❤❤❤❤❤❤❤❤❤❤❤❤


A Slickdeal forum member posted Overstock 7% off code (Code: 149509. Exp 5/9). So of course, I visited Overstock site right away and checked out the clearance section. This wool coat caught my attention right away. I love the huge hood. The price is decent too. So without thinking further, I bought the coat. Bad impulse!


Triple 5 Soul Hazel Coat - $35.77 shipped
The coat arrived 3 days later! So fast!

The coat is made of 70% wool, so it's kinda bulky. It's very warm.
The hood is humongous! Bigger than I expected. Very deep and wide. When I put it over my head, it flops down and over into my face. I can't see anything in front of me.
Still, it's a good price for a coat, too bad the season is over. I can't wear it out for another 6-7 months.


My order from
iHerb
arrived 2 days ago! Very good and fast service!
If you're a new customer, use code
BUN126
to get $5 off your first purchase.
I almost finished my Skinfood face cleanser and Olay night cream.
I was planning to get another Skinfood cleanser on eBay, but then decided to get something closer to home and more natural. The night cream, I wanted to try something different.
Since i'm happy with the organic shampoo+conditioner and hair styling products that I have been using, I want to try other kind of organic products.
My face is kinda messed up now. I have a few acne scars from the acnes I usually get during my period, I have brown spots from sun damage, and millia - possibly from years of wearing makeup. So, I thought products that are made of natural ingredients would help.
That website has hundreds of organic products. So hard to choose! After 2 days worth of researching during the weekend (reading reviews, read information about the ingredients, etc), I finally decided face products that contain Vitamin C, Vitamin E and white tea, since they are good sources of antioxidant. The brand is Avalon Organics, the same brand as my HG Biotin Thickening shampoo & conditioner brand.
Avalon Organics, Vitamin C Facial Cream - $12.26

Avalon Organics, Vitamin C Refreshing Cleansing Gel - $6.41
It's majority made of natural ingredients. It doesn't contain Sodium Lauryl Sulfate (SLS) too!


I have been using them for 2 days. So far I haven't gotten any new break outs. Phew!
The product smells nice, it's like orange candy. It doesn't smell that strong, so it doesn't hurt my nostrils.

The cleanser washes off my makeup easily and effectively. It doesn't dry out my skin.

My original plan was to use the cream at night only, but I have been using it day and night.
It absorbs really quickly. It wears well under makeup
The Dr. Jart BB Cream I've been using is a nice tinted foundation, but it's kinda dries out my skin. During the day, some dry patches appear around my mouth and on both sides of my nose.
The Olay Complete moisturizer I previously used couldn't keep my skin to stay moisturized.
This cream does the job, the dry patches barely show up anymore.